DAY 27: SPORTS PT2 – GAME CHANGERS: BLACK ATHLETES WHOSE IMPACT ON THEIR SPORT CHANGED THE GAME FOREVER
In sports, we all are well aware that Black athletes were not permitted to participate in professional sports with White athletes for many years. Of course, as history unfolded, African American athletes broke through the color barriers and made their mark on their respective sport. Some transitions happened with a bang, while others were more unnoticeable.
Baseball, for example, had what was known as the Negro Leagues–which included some of the best players that ever played the game. Jackie Robinson was not the best player to come out of the Negro Leagues; he was just the one believed to be the best fit for the circumstance. Other sports color-barrier breakthroughs didn't seem as significant as baseball because that was America's darling of sports disciplines–America's pastime.
Notwithstanding, the breakthrough did occur, and we could not be more ecstatic. Black people gathered around radios and black and white television sets to watch Black athletes gain national notoriety. They became national folk heroes. In my opinion, sports figures were critical because they helped galvanize the country's movement away from Jim Crowe toward a universal acceptance of all people as human beings worthy of dignity and respect. Sports is one area that brings people together to root for a common cause. Professional sports teams represent cities–not White cities or Black cities. Olympic teams represent countries, not the White half of the country or the country's Black segment only.
Time and time again, Black athlete's demonstrated the talent, physical prowess, and sports acumen to compete at a high level. Many used their platform for activism to help dispel unfounded beliefs concerning who Black people were. They were role models even when they didn't want to be. People unfairly judged the entire race based upon their behavior, both good and bad. However, we are proud of their accomplishments. They held their heads up high and performed admirably, taking their sport to a whole new level–while carrying the weight of all Black people on their shoulders. Many of them went on to change the game forever. We dedicate this section to them–"The Game Changers."
We have chosen to celebrate a select few sports pioneers from the latter half of the 20th century for their determination to change the game and thereby change the perception of Black peoples contributions. Their efforts helped change the landscape and trajectory of our country. Today we honor their genius. We must not let their efforts be forgotten or let others bask in the credit of their achievements. Today we change the narrative. #LET THE TRUTH BE TOLD.
"The Game Changers"
6 BLACK ATHLETES THAT CHANGED THE SPORT THEY PLAYED AND CHANGED THE WORLD AS WELL
Jack Roosevelt Robinson was an American professional baseball player who became the first African American to play in Major League Baseball in the modern era. Robinson broke the baseball color line when he started at first base for the Brooklyn Dodgers on April 15, 1947
When Jack Roosevelt (Jackie) Robinson took the field on April 15, 1947 wearing a Brooklyn Dodgers uniform, he became the first African American in over fifty years to play on a major league baseball team. In the process, he broke through baseball's color line that had relegated African American players to the segregated Negro Leagues.
Jack Roosevelt Robinson, the youngest of five children, was born in Cairo, Georgia on January 31, 1919 to sharecroppers Jerry and Mallie Robinson. When Jack was a year old his father deserted the family, and Mallie Robinson relocated her family to Pasadena, California where Jack grew up. Robinson's athletic ability was apparent from an early age. In high school he participated in five sports: basketball, football, baseball, tennis and track. He continued to play multiple sports at Pasadena Junior College, where he graduated in 1939, and then at the University of Southern California, Los Angeles (UCLA).
While at UCLA, Robinson became the first athlete to earn varsity letters in four sports. Despite his athletic accomplishments, Robinson believed that his chances of playing on any major league sports team after graduation were slim, given the racism of the era, and in 1941 he left college just shy of graduation to take a job as an assistant athletic director with the National Youth Administration in Atascadero, California. The position, however, was short-lived as government funding for the job ended the following year.
In 1942, Robinson was drafted into a segregated Army unit where he served two years. He was admitted into Officer Candidate School and became a second lieutenant in 1943, although his service was marred when he was court-martialed for refusing a civilian bus driver's order to move to the "back of the bus" during a trip back to the base. After a brief trial, he received an honorable discharge in 1944. The incident was played out in a 1990 movie, The Court-Martial of Jackie Robinson.
"Early Black Football Players"
KENNY WASHINGTON,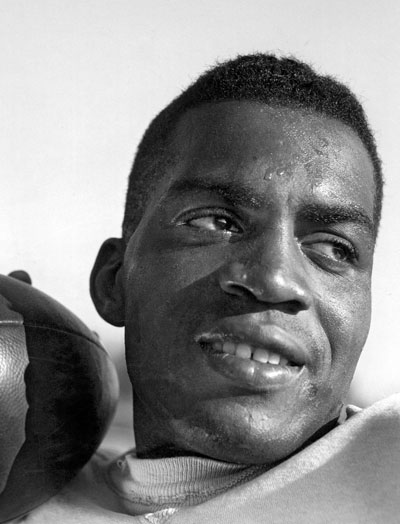 Kenneth S. Washington was one of the first black college football stars on the West Coast and one of two African Americans to reintegrate the National Football League (NFL) when he joined the Los Angeles Rams in 1946. His stardom as a running back began at Abraham Lincoln High School in his native Los Angeles. After graduation, Washington played as a tailback at the University of California, Los Angeles (UCLA), from 1937 to 1939. This was a time when only a dozen blacks were numbered collectively among players on white college football teams—all outside the South. At UCLA, Washington found himself teamed with three other African American football players—athletic greats Jackie Robinson, Woody Strode, and with one other who was a substitute player—an unprecedented number of black athletes on a single team. Despite leading the nation in total offense in 1939 and rushing for 1,914 yards in his college career, Washington was snubbed as contender for first team All-American, the postseason East-West Shrine Game, and the NFL during the peak of his career.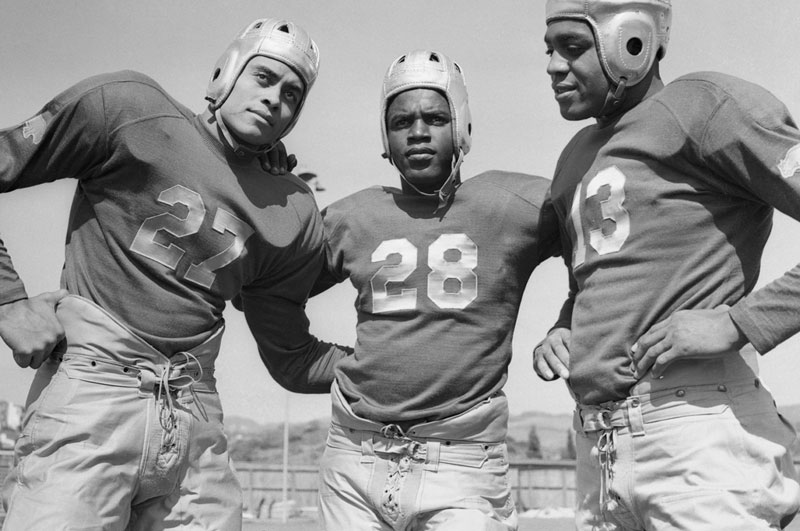 Despite these setbacks Washington continued his commitment to athletic excellence when he joined the Hollywood Bears and later the San Francisco Clippers in the Pacific Coast Pro Football League (1940-41 and 1945) and in the American Football League in 1944. Washington's greatest impact, however, was reintegrating the NFL (along with UCLA teammate Woody Strode) in 1946. In this year– when the Cleveland Rams relocated to Los Angeles– the contract with Los Angeles Coliseum stipulated that the team would lose its lease if the team was not integrated. The Rams' agreement with these terms ended the NFL's 12-year ban on black players. Unfortunately for Washington, he suffered several knee injuries and, after three sub-par seasons with the team, he retired in 1948. In 1956, Washington was inducted into the College Football Hall of Fame, and his jersey number "13" was the first to be retired at UCLA.
LEARN MORE ABOUT KENNY WASHINGTON, A BETTER BASEBALL PLAYER THAN FOOTBALL
Halley Harding of the Los Angelos Tribune persuaded Rams general manager to sign Washington — a year before Jackie Robinson broke baseball's color barrier with the Brooklyn Dodgers.

GEOFF GRASER
"The Big Cat"
EARL LlOYD
As a player, the 6-foot-5-inch Lloyd was nicknamed The Big Cat. He was drafted in the same year as other black players, but he was the first to play in the regular season, for the then-Washington Capitols. In 1955, Lloyd helped the Syracuse Nationals win an NBA title; he later played for the Detroit Pistons.
On October 31, 1950, 21-year-old Earl Lloyd becomes the first African American to play in an NBA game when he takes the court in the season opener for the Washington Capitols.
Lloyd grew up in Jim Crow Virginia and went to West Virginia State, where he was the star of the school's championship basketball team. He didn't know he'd been drafted by the NBA until he ran into a friend on campus who told him she'd heard a rumor that he'd be moving to Washington. It turned out that the Capitols had picked him in the ninth round of the draft. Two other Black players joined the NBA that season—the Celtics drafted Chuck Cooper in the second round and the New York Knicks got Nat "Sweetwater" Clifton from the Harlem Globetrotters—but the Knicks and the Celts didn't start their seasons until November. As a result, Lloyd became a coincidental pioneer: the first Black player to make his debut in the NBA.
Earl Lloyd coached the Detroit Pistons for one year before retiring to work with the Detroit Police Department

KRS ONE
"Tennis Champions & Forerunners"
BARRIER BREAKERS AND ARTHUR ASHE
Althea Gibson, a sharecropper's daughter, entered the world of sports when segregation severely limited opportunities for African Americans. She eventually became the first black athlete to cross the color line of international tennis and golf.
Althea Gibson was born on August 25, 1927, to Daniel and Annie Bell Gibson, sharecroppers on a cotton farm near Silver, South Carolina. In 1930, the family moved to Harlem where Gibson's younger siblings were born. While growing up in Harlem, Gibson played paddle tennis on a section of 143rd Street between Lenox and Seventh Avenues that was barricaded during the day so neighborhood children could participate in organized sports under the supervision of the Police Athletic League. Gibson became proficient in paddle tennis, and by 1939, at the age of twelve, she won the New York City, New York women's paddle tennis championship.
The following year, a group of Gibson's neighbors took up a collection to finance her junior membership at the Cosmopolitan Tennis Club in Harlem. In 1941, Gibson entered and won her first tournament, the American Tennis Association's New York State Championship. She later won the ATA national championship in the girls' division in 1944 and 1945. After losing the women's championship final in 1946, she won the first of ten straight titles beginning in 1947.
Arthur Robert Ashe Jr., legendary tennis player, human rights activist, and educator, was born on July 10, 1943, in Richmond, Virginia, to Arthur Sr. and Mattie Cunningham Ashe. At the age of four, he began playing tennis at Brook Field, a black-only park where his father worked as caretaker.
Before she died in 1950, Ashe's mother taught him the importance of education. His father sponsored his early development in tennis. Ashe developed into a prodigy in the early 1950s under his lifelong coach Dr. Walter Johnson, who also trained professional tennis player and golfer Althea Gibson. In 1953, at the age of 10, Ashe won the American Tennis Association's National Championship for boys 12 years and under. Determined to play in the all-white Junior United States Tennis Association (USTA), Ashe broke its racial barrier in 1957 when he competed in Maryland boys' championships. This led to his regular inclusion in local summer USTA tournaments from 1957 to 1960.
In 1960, 17-year-old Ashe first gained national recognition as a high school student-athlete in Sports Illustrated. The following year, he entered the University of California at Los Angeles (UCLA) on a full scholarship. In Ashe's sophomore year, he made the 1963 US Davis Cup team, a feat he repeated from 1964 to 1970 and again in 1975, 1976 and 1978. In 1965, Ashe was named the top-ranked amateur player in men's tennis and, as team captain, guided the UCLA tennis team to the NCAA team championship, winning the individual and doubles titles.
Start where you are. Use what you have. Do what you can."

ARTHUR ASHE
"Sister Act"
SERENA AND VENUS WILLIAMS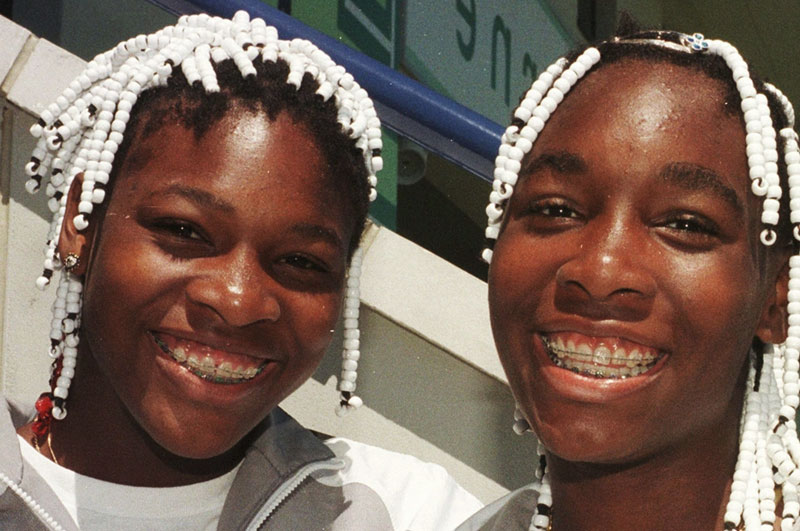 Professional tennis player Venus Williams was born June 17, 1980 in Lynnwood, California. She is the daughter of Richard Williams and Oracene Price. Both parents coached Venus and her younger sister, Serena, who is also a top-ranked professional tennis player.
Venus Williams, the second youngest of five children and whose older siblings are from Price's previous marriage, grew up in Compton, California where she began to play tennis at the age of five. After moving to West Palm Beach, Florida with her family, Williams joined professional ranks in 1994. A year later at the age of 15, the 6 ft. 1 in. child prodigy had already signed a multi-million dollar endorsement deal with Reebok which at the time was the largest contract ever awarded to a female athlete.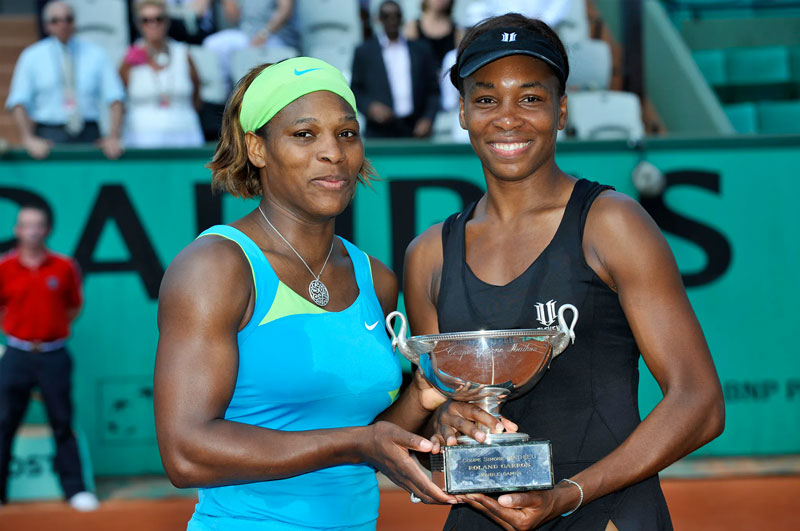 Williams' breakthrough season came in 1997, highlighted by her sensational run at the U.S. Open final where she lost to world No. 1 Martina Hingis. By the end of 1998, with three Women's Tennis Association (WTA) tour wins, including a Grand Slam Cup, Williams was ranked No.5 in the world. After winning six titles in Oklahoma City, Miami, New Haven, Hamburg, Rome, and Zurich in 1999, Williams went on a 35-match winning streak in 2000, despite missing four months on tour due to tendonitis in both wrists. Among her wins during that year was her first singles title at Wimbledon and the U.S. Open. She also had two wins at the Olympics in Sydney, Australia. On February 25, 2002, Williams became the first African American tennis professional, male or female, to be ranked No.1 in the world.
Eight-time world No. 1-ranked professional tennis player Serena Williams was born September 26, 1981 in Saginaw, Michigan. She holds 23 Grand Slam singles titles, 12 in women's doubles, and two in mixed doubles for 39 total—the most of any active player. Formerly coached by parents Richard Williams and Oracene Price, Williams is the younger sister and frequent doubles partner of former world No. 1 professional tennis player Venus Williams.
Williams, the youngest of five siblings, grew up in Compton, California where she began to play tennis at the age of four. At the age of nine, Williams and her family moved to West Palm Beach, Florida where she dominated the field of junior tennis competitors. She joined the professional ranks in 1995. Four years after her debut, Williams established herself as a top-ranked player when she won the U.S. Open, the Grand Slam Cup, and three other Women's Tennis Association (WTA) singles titles. In 2002-2003, Williams completed a "Serena Slam," winning titles at the Australian Open, French Open, U.S. Open, and Wimbledon in the UK. Also in 2002, Williams assumed the world No. 1 ranking for the first time.
In the middle of 2003, Williams' winning streak came to an end when she injured her knee. The next several years proved difficult, as she struggled to remain healthy for long periods of time. By 2007, however, Williams returned to form. That year, she won the Australian Open, followed in 2008 by victories at the Olympics and the U.S. Open. Williams was once again ranked world No. 1 and had a phenomenal 2009, securing 3 Grand Slams. In 2010, however, Williams suffered from a potentially life-threatening pulmonary embolism, which sidelined her for several months. During this period, she was also recovering from deep cuts on her feet suffered from stepping on glass, which required two surgeries to heal.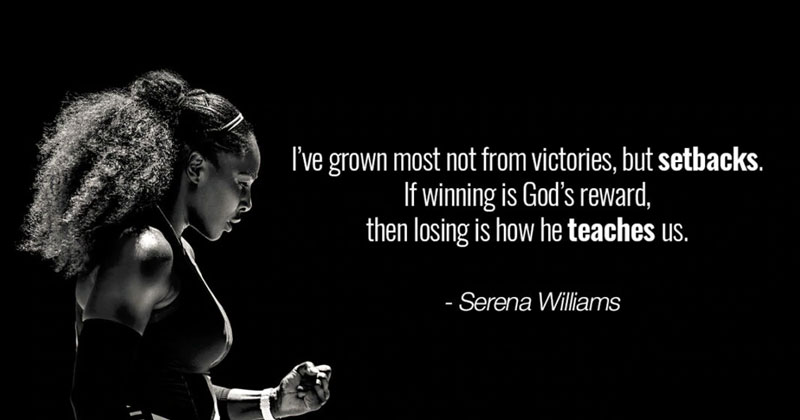 "True Big Men"
WILT CHAMBERLAIN AND KAREEM ABDUL JABAAR
Kareem Abdul-Jabbar was born Ferdinand Lewis Alcindor, Jr. on August 16, 1947, in New York City, New York. He was known as Lew Alcindor until his 1973 name change. Alcindor dominated the New York City high school basketball scene. Decidedly larger than his peers from an early age, he grew to seven feet, one-and-three-quarter inches tall, and found little competition while playing for Power Memorial High School.
In 1966 Alcindor left for Los Angeles, California to play for the University of California at Los Angeles (UCLA). Over his three seasons there he led the Bruins to an overall 88-2 record and three consecutive national championships. Alcindor finished his college career with the sixth highest point total of any player and won the inaugural Naismith Award for the most valuable college basketball player in 1969.
In 1967 Alcindor joined a number of athletes, including Bill Russell and Muhammad Ali (Cassius Clay), in a press conference to speak out against the Vietnam War. Ali and others also took this opportunity to praise Islam, to which Alcindor had recently converted. (Four years later he legally changed his name from Alcindor to Abdul-Jabbar and in 1973 traveled on pilgrimage to Saudi Arabia.)
The Milwaukee Bucks in Milwaukee, Wisconsin selected Alcindor as the number one draft pick in the 1969 National Basketball Association draft. He brought the struggling Bucks to second place in the Eastern Conference and easily won NBA Rookie of the Year honors. The next season he led the Bucks to their first national championship.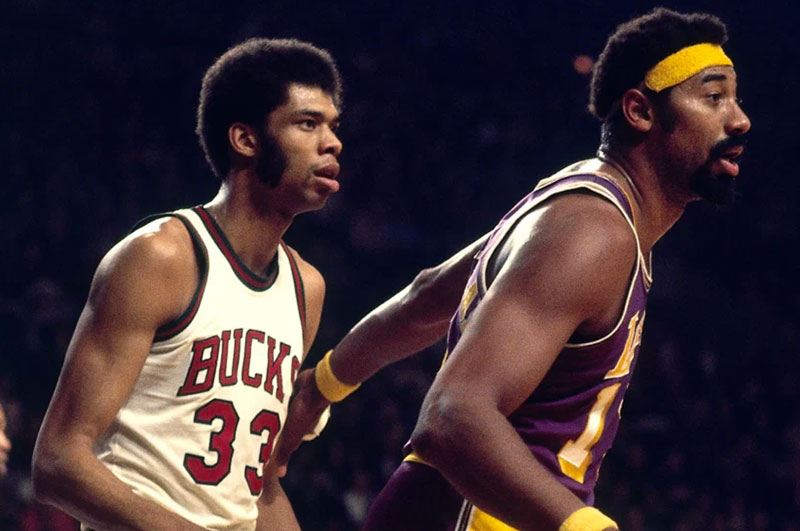 The Milwaukee Bucks finally put a stop to Los Angeles' 33-game winning streak on Jan. 9, 1972, and forced Sharman to pull out that dog-eared note. It was the longest winning streak among major American professional sports teams at the time.
Many teams tried to end the record-setting streak that began on Nov. 5, 1971, but only the Bucks could upend Los Angeles. The Bucks won their 20th game in 21 contests with the 120-104 victory in front of 10,746 fans in Milwaukee.
"We'll beat them," Milwaukee Bucks coach Larry Costello said before the game to The New York Times. "We're the champs, and all they have is the streak."
The marquee matchup was Wilt Chamberlain versus Kareem Abdul-Jabbar, who knew a thing or two about historic streaks being ended. In high school, Abdul-Jabbar was a member of Power Memorial's historic 71-game winning streak that DeMatha ended less than a decade earlier.
Ultimately, Abdul-Jabbar showed he was in a league of his own, dropping 39 points, grabbing 20 rebounds and knocking out Harold "Happy" Hairston in the second quarter. Chamberlain scored 15 points, pulled down 12 rebounds and blocked six shots.
Wilton Norman Chamberlain was an African American basketball player who played in the National Basketball Association (NBA) for the Philadelphia/San Francisco Warriors, the Philadelphia 76ers, and the Los Angeles Lakers. Chamberlain is known as one of the greatest basketball players of all time, being selected 13 times to the NBA All Star team (1960-1969, 1971-1973) and leading his team to two NBA Final Championships (1967, 1972).
Wilton Chamberlain, known as Wilt, was born on August 21, 1936 in Philadelphia, Pennsylvania to William and Olivia Chamberlain, one of nine children. His father, William, worked in a local publishing company, while his mother, Olivia, worked as a gardener and maid. Wilt attended Overbrook High School in Philadelphia where he played on the varsity basketball team for three years. In his sophomore year, Chamberlain led Overbrook High School to a perfect 19-0 record, winning the city championship. In his senior season, he continued his success by scoring 74, 78, and 90 points in three consecutive games, leading his team to a second straight city championship. While in high school, Chamberlain scored 2,252 points, breaking the all time high school scoring record, and averaging 37.4 points per game. Chamberlain was recruited by over 200 universities to play basketball, but he chose the University of Kansas, primarily because of hall of fame coach Phog Allen.
When he arrived in 1955, Chamberlain was surprised to see racial segregation in Lawrence, Kansas. Chamberlain ignored the segregation by eating in formerly all-white restaurants and going places where African Americans were not allowed. His presence in the city, coupled with his star basketball status, ultimately led some businesses to change their policies about black patronage.
"Goats"
MUHAMMAD ALI, JIM BROWN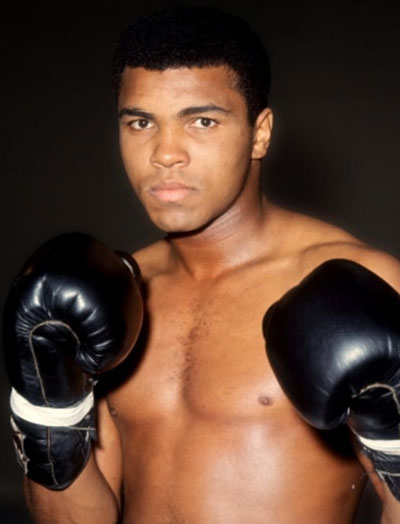 Muhammad Ali, arguably the most famous professional boxer in the 20th Century and the only fighter to win the heavyweight championship three times, was born Cassius Clay in 1942 in Louisville, Kentucky, to Cassius Marcellus Clay, Sr. and Odessa Grady Clay.  At the age of 12 Clay began training as a boxer.  During his teen years he won several Golden Gloves titles and other amateur titles.  At the age of 18 he won a gold medal in the 1960 Summer Olympics in Rome, Italy and then turned professional.  In one of the most famous boxing matches of the century, Clay in 1965 stunned the world by beating apparently invincible world heavyweight champion Sonny Liston in six rounds.
After defeating Liston, Clay announced his conversion to Islam and joining of the Nation of Islam (NOI) under the leadership of Elijah Muhammad.  Clay also announced he changed his name to Muhammad Ali.  As a member of the NOI, Ali was mentored early on by the organization's most charismatic leader, Malcolm X.
In 1967, at the height of the Vietnam War, Ali received his induction notice. Instead of dodging the draft, Ali announced publicly that he refused induction.  Government officials shortly thereafter tried, convicted, and sentenced the boxing champion to five years in prison for draft evasion, but he remained free pending appeals.  However, United States boxing officials stripped him of his boxing title and suspended his license.  During his suspension, Ali became an activist, touring the country, speaking to civil rights organizations and antiwar groups.
James Nathaniel Brown was born February 17, 1936, in St. Simon Island, Georgia. A talented athlete from an early age, Brown earned 13 letters playing a variety of sports at Manhasset High School in New York.
Brown attended Syracuse University in New York where he played football, basketball, ran track, and played lacrosse. As a senior in 1956-7, Brown was a unanimous All-American in football and a second-team All-American in lacrosse, and remains the only athlete to be inducted into the NCAA Hall of Fame for both sports, as well as the NFL Hall of Fame.
The Cleveland Browns selected Jim Brown as their number one pick in the 1957 NFL draft, and the rookie would capture the league rushing title, Rookie of the Year honors, as well as earn the league Most Valuable Player award. Over the next eight years, Brown would lead the league in rushing seven more times, be elected to every Pro Bowl, and win another Most Valuable Player award in 1965. Some of his most notable records include career rushing yards (12,312) and average gain per attempt (5.2 yards). In nine seasons as a premier fullback, he never missed a game.
WILLIE MAYS AND MICHAEL JORDAN,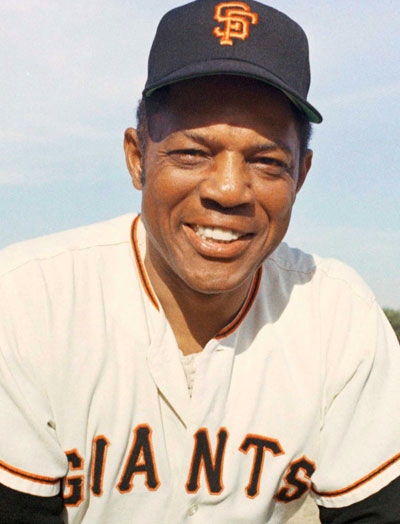 Willie Howard Mays Jr. was born May 6, 1931, in Westfield, Alabama to Ann and William Howard Mays.  Both of his parents had been athletes.  Ann Mays was a high school track star while William Howard Mays had played semi-professional baseball in Birmingham's Industrial League before becoming a steel mill worker and Pullman Porter.  Willie Mays Jr., loved baseball and by the time he was 14 he was playing on his father's semi-pro club, the Fairfield Gray Sox.  At 16 Mays began his professional career with the Birmingham Black Barons of the Negro Southern League.  Although he had become a professional, his father insisted he only play on weekends while school was in session.
The New York Giants noted Mays's athletic ability and offered him a contract while he was still in high school. He began playing with the Giants in 1951 at the age of 20. During his first year in Major League Baseball Mays won Rookie of the Year honors. Mays excelled at every aspect of baseball; he hit for both power and accuracy, had great speed, a strong throwing arm, and perfect defense in the outfield. He is the only outfielder ever with more than 7,000 putouts. When asked if he ever misjudged a fly ball, Mays replied that he "missed two fly balls. Ten years apart."
Michael Jordan, National Basketball Association (NBA) superstar, was born February 17, 1963 in Brooklyn, New York, the son of James R. and Deloris Jordan. Soon after his birth, the family moved to Wilmington, North Carolina. Jordan became a standout athlete at Laney High School despite being rejected for the school's varsity basketball team the first season he tried out. He grew four inches taller over the following year, made the team and became an All-American during his senior year at Laney.
Jordan played college basketball at the University of North Carolina where under coach Dean Smith's tutelage he established a reputation as a clutch player when he made a game winning shot against Georgetown in the 1982 National Collegiate Athletic Association (NCAA) championship game. This reputation would follow him into the NBA when he left school before his senior year to play professionally for the Chicago Bulls.
Jordan, who was Rookie of the Year in the 1984-1985 season, led the Bulls to the playoffs where they lost in the first round to the Milwaukee Bucks. Despite sitting out 64 games in the second season due to a foot injury, Jordan returned late in this year and scored a record 63 points in a single game in 1986 against the Boston Celtics, who nonetheless eliminated the Bulls in the playoffs.
"Best of the Best"
TIGER WOODS
Eldrick "Tiger" Woods was born on December 30, 1975 in Cypress, California to parents Earl and Kultida Woods. His mother was a native of Thailand. Woods was given the nickname Tiger after a Vietnamese soldier and friend of his father's. He grew up watching his father play golf and at the age of two, he was putting with Bob Hope on the Mike Douglas Show. Woods was featured in Golf Digest at the age of five and between the ages of eight and fifteen, he won the Optimist International Junior tournament six times. Tiger Woods entered his first professional tournament in 1992 at the age of 16. He attended Stanford University in 1994 and within two years, had won 10 collegiate titles including the NCAA title.
By the age of 32, Tiger Woods has had an unprecedented career. Woods has won 75 tournaments including 55 on the Professional Golf Association (PGA) tour. His victories include the 1997, 2001 and 2005 Masters Tournaments, the 1999, 2000, and 2006 PGA Championships, 2000 and 2002 U.S. Open Championships and the 2005 and 2006 British Open Championships. In 1997, Woods, at 22, became the youngest player ever to win the Masters Championship and the first ever winner of African or Asian heritage. In 2001, Tiger became the first ever golfer to hold all four major championship titles.
Throughout his career, Tiger Woods has received numerous awards including the Sportsman of the Years in 1996 and 2000 from Sports Illustrated and the Male Athlete of the Year for 1997, 1999 and 2000 from the Associated Press.  He was chosen as the ESPY Male Athlete of the Year in 1997, 1999 and 2000 and the Player of the Year for the PGA Tour eight times between 1997 and 2006.
WATCH EARLY FOOTAGE OF TIGER WHEN HE WAS A YOUNG BOY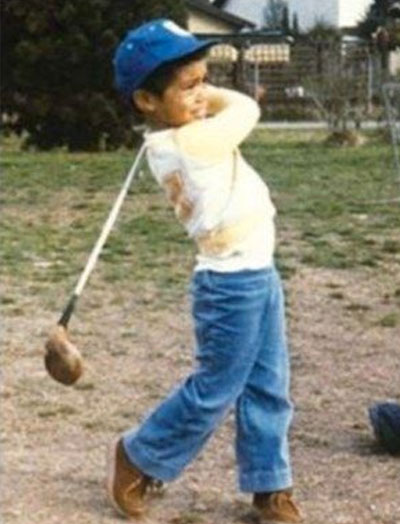 In light of the tragic accident that Tiger Woods has endured, We here at EMPOWER wish him speedy recovery. Are hearts, thoughts, and prayers go out to him and has family during this difficult time. However, we earnestly believe that if anyone can fight there was back, Tiger can.
The loser said it may be possible but it's difficult. The winner says it may be difficult but it's possible.

ALTHEA GIBSON
This collection does not even begin to represent the legacy of Black athletes that have had a profound impact on their respective sport. Although we list a few, We celebrate all of those that sacrificed their time and effort to change the game forever. We celebrate Black Genius.
Content provided courtesy of History.com, Britannica.com and Wikipedia.com, Biographies.com, Blackpast.com, msbluestrail.org, notablebiographies.com, hiphopgoldenage.com, iconcollective.edu, getty images, timeline.com, and youtube.com. All Rights Reserved.